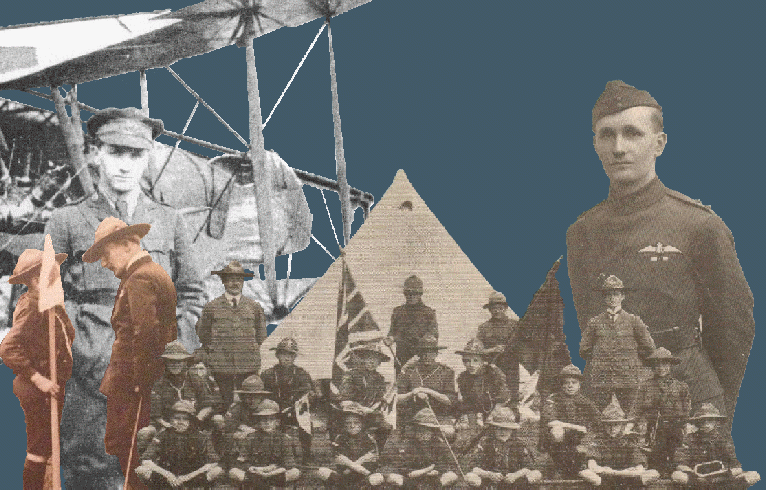 Walter Bertram Wood was known as 'Bert' (and called 'Chips' by his close friends and family!) He was born on the 25th October 1898, and lived in Grimsby at Ernecroft, Abbey Road. He was the founder of Scouting in Grimsby and Cleethorpes, as, when he was only ten, he was inspired by Baden-Powell's 'Scouting for Boys' that was serialised in his father's paper. So he gathered four of his friends (Evan Williams, Harold Thompson,Douglas Moorhouse and Walter Goodrich) and formed the Hounds Patrol- The first Scout Troop in the area. Their first meetings took place at Bert's house- but they soon expanded (under Bert's guidance) renamed themselves the Eagles and eventually joined with a troop formed at St.James' (their school) and became 3rd Grimsby.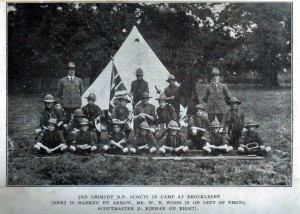 Bert was all about adventure, and new things and technologies. Apart from Scouting his other great passion was the emerging field of aviation. He was a keen model maker and formed a model aero club with some of his fellow Scouts- venturing to shows at Windsor and Birmingham and winning awards. It was all cutting edge stuff- something that we find quite hard to imagine as aeroplanes have so quickly become part of everyday life.
Bert was in many ways a model Scout- he was really keen and was often the first in the area to earn many of the new badges that were being introduced, including the new Airman badge and becoming a King's Scout. He was also known for very fair and remained Patrol leader throughout his time in Scouts, despite insisting on an election being held every year for the position. When Baden Powell came to visit Grimsby in 1911 and inspected the different groups in People's Park, Bert was introduced to him as Leader of the 3rds.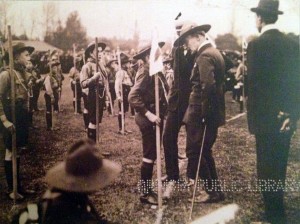 At the outbreak of war a 16 year old Bert was studying engineering in Hull. He immediately left his studies and joined his troop coast watching at Theddlethorpe, on the Lincolnshire coast. The Scouts maintained a continuous presence there, 24 hours a day, 7 days a week- and whilst the younger Scouts took in in shifts to miss school and travel from Grimsby to where they were camped, Bert stayed there as Patrol Leader in charge of the operation, until the following March when they were relieved by armed troops.
Later that year Bert held one last camp with his friends in the 3rds, and then he joined the army as a Subaltern in the Hampshire Regiment. He was awarded the Medal of Merit for his services to local Scouting.
Bert had always dreamed of being an airman, and repeatedly asked to transfer to the brand new Royal Flying Corps. In August 1916 he got his wish- and began to train to be a pilot.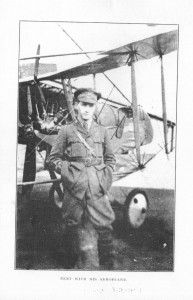 The average life expectancy of a RFC pilot in WW1 was 11 days. Bert joined 29th Squadron in France in March 1917. He flew Nieuports- which were a single seat scout plane- designed to engage and harass the enemy as much as possible. it was all brand new technology- and it took a special kind of person to be a pioneer, not just of aviation, but or aerial combat. Bert was that type of person. In the air he soon became known for his bravery and ability. His Commanding Officer called him a 'very brilliant Airman'
Between the 4th May and the 11th August he took part in 36 aerial combats- including once where he attacked three German planes over enemy lines and shot them down… then took out a machine gun post and on landing discovered that most of his plane had been shot away, with 49 bullet holes in it! Including one from a bullet that passed right through his seat and would have killed him had he not been bending forward at the time. And another time when after running low on machine gun ammunition, he drew his revolver, charged at the enemy plane and shot it down at close range.
Bert was awarded the Military Cross 'for conspicuous Gallantry and devotion to duty on many occasions' The citation said that he had shown 'fine offensive spirit and the upmost fearlessness' and within a few weeks he had been awarded the Bar to the Military Cross as well.
On the ground, Bert showed the type of person that he was too. The high casualty rate meant that although he was only 19 he was one of the most experienced in the Squadron.
"My Flight Commander is only quite a kid (just 19) but he wears the MC with bar and is very efficient. In fact for a few days he ran the whole Squadron because the Major was killed by a Hun night raid" Fl Lt Ortweiler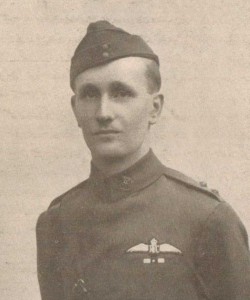 "Thank you for all the Huns you shot down for the Squadron, and for always being so cheery in mess, as it helped tremendously to keep up the tails of new Pilots in these very strenuous times"Bert's commanding officer
Bert's brother Ted was in the Royal Scots Fusiliers,and in September 1917 Bert received the devastating news that he had been killed in action in Flanders. Six weeks later tragedy struck again. Bert had been diagnosed with the 'flu and had been sent back to England to recover. whilst he was there he had joined the 44th (Home defence) Squadron. And on the 11th November 1917, had taken his aeroplane up on a training flight, to teach a new pilot some combat techniques but, still weak with 'flu had passed out at the controls. His plane spun out of control and hit the ground and he was killed instantly, just two weeks after his 20th Birthday.
In 12 weeks of constant fighting at the front, Bert had destroyed 17 enemy planes (plus a kite balloon, a machine gun post and 18 more planes driven down to the ground)
His body was returned to Grimsby where it was carried on a gun carriage, flanked by former comrades and Scouts, and buried with full military honours at Scartho Road Cemetery.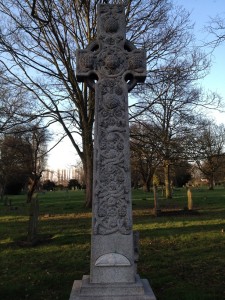 "As they carried him slowly down the aisle of the old church on his last journey, it served to recall another occasion, a few years earlier, when as a little lad he had walked up that very aisle- a Patrol Leader of Scouts to make the Scout promise… Nobody could deny that he had kept that vow- to serve God, to honour the King, and to try to help others. As a Scout, later as a Scoutmaster and as a soldier, he had fulfilled it"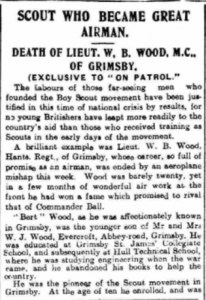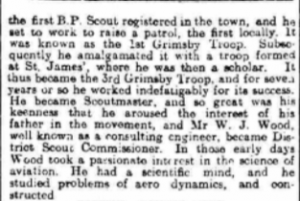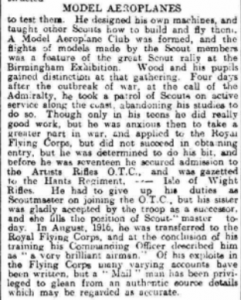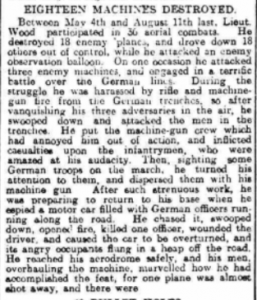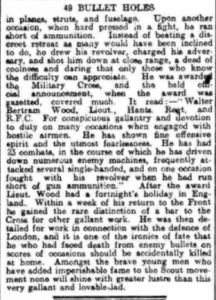 In one of Bert's very last letters home he summed up his philosophy on life
"My motto has always been 'today' and perhaps it is a very good thing for me. You know, Dad, when I was out in France I got to look at things in such a light that it was impossible to make any future arrangements, and so I lived for the day, as I do now. It stopped me from being a coward anyhow, and if a fellow can prove to himself that he is not a coward, and is not afraid to meet the shadow we call Death nor the challenges faced in this great game of life, well, it makes up for thousands of failings"